Lectures
Chapter 1, Nature of Light
Chapter 2, Geometrical Optics
Chapter 3, Optical Instrumentation
Chapter 4, Wave Equations
Chapter 5, Superposition of Waves
Chapter 6, Properties of Lasers
Chapter 7, Interference of Light
Chapter 8, Optical Interferometry
Chapter 9, Coherence
Chapter 10, Fiber Optics
Chapter 11, Fraunhofer Diffraction
Chapter 12, The Diffraction Grating
Chapter 13, Fresnel Diffraction
Chapter 14, Matrix Treatment of Polarization
Chapter 15, Production of Polarized Light
Chapter 16, Holography
Chapter 17, Optical Detectors and Displays
Chapter 18, Matrix Methods in Paraxial Optics
Chapter 19, , Optics of the Eye Chapter 20, Aberration Theory Chapter 21, Chapter 22,

HW solutions
HW1 HW2 HW3 HW4 HW5 HW6 HW7 HW8 HW9 HW10 HW11 HW12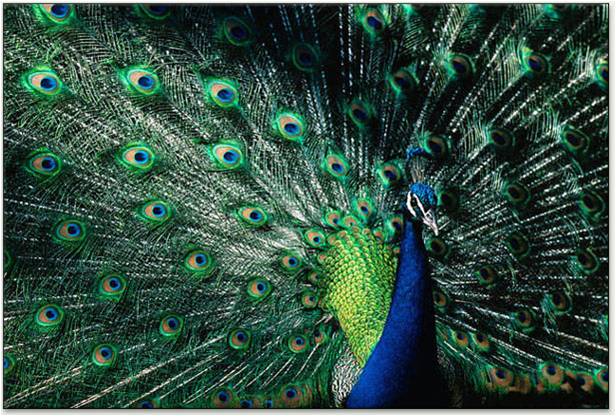 Peacock Feathers
This is an upper division course in optics for Physics majors and other students that have the prerequisites. The course is composed of two parts. Part I: geometrical optics include (but not limited to)

thin and thick lens systems, matrix methods, aberration theory, optical instrumentation. Part II include: electromagnetic waves and their superposition, Interference of light and interferometry, holography, polarization and matrix methods, Fraunhofer diffraction, diffraction grating
.
Homework assignments are listed in the course syllabus Course syllabus
Note: I am posting the lectures as they become ready and frequently update/correct them as we advance in the course. Please watch for typos and conceptual mistakes. I will really appreciate your help on correcting the view graphs and homework solutions by sending me an email to: nayer.eradat@erbion.com
Important announcement: Final will be take-home and the exam will be distributed on May 13 in the class. If you miss that class, you have missed the final, unless you announce in advance that you can't make it to the class. In that case send me an email to set up an appointment.
Return of the final will be on May 22, 9:45-12 in my office (science 264). You can turn in your exam sooner by appointment if you whish. I will have a 10 minutes conversation with you about your approach to the problems and may ask some questions about the subjects of the exam. You should be able to defend your solution. No absentee exam paper will be accepted.